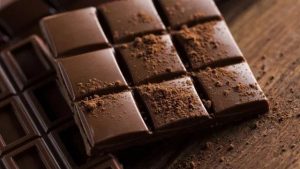 Many of us enjoy a piece of chocolate (or 10) as a sweet treat after dinner or throughout the day. Of course, too much of anything is not a good thing, but could some chocolate be good for your gut?
Balanced diet
I'm not suggesting that you go out and eat nothing but chocolate, but there is a healthy way to enjoy chocolate which will help to fuel the beneficial bacteria in your gut. Stay with me, this isn't a trick and is all about better choices when you crave a sweet treat!
Learning how to take care of your 'gut bugs' is an important part of taking care of your health. Our gut bugs play several important roles in our body and are essential for optimal health and wellbeing, so it is essential that they are fueled correctly.
Plant foods contain beneficial compounds called 'polyphenols' which are linked to many health benefits, including supporting heart health and preventing cancer and diabetes. In fact, more than 8,000 polyphenols have been found in everyday foods such as berries, vegetables, whole grains, cereal, legumes, tea, coffee and wine. Perhaps the most interesting thing to know about polyphenols is that they are found in cocoa – the main ingredient found in dark chocolate!
There have been several research studies looking at how cocoa may influence gut bacteria showing links between cocoa consumption and an increase in helpful bacteria and a decrease of potentially harmful bacteria in the gut. Other great things about cocoa-based foods is that they can assist in reducing blood pressure and have a positive impact on your blood sugar levels.
The right chocolate
Not all chocolate is created equal with natural cocoa containing the highest levels of polyphenols and antioxidant activities followed by dark chocolates and finally, milk chocolate. White chocolate was found to have no antioxidant activity. Manufacturing processes can destroy considerable amounts of polyphenols making it important to look for higher quality minimally processed cocoa-based products. For example, many recipes call for Dutch-processed cocoa when in fact this processing significantly reduces the polyphenols compared to natural cocoa powders.
Of note, Interestingly, it appears adding milk fat to cocoa can also reduce your body's ability to use these beneficial polyphenols. So, move over milk chocolate, it's time for good quality dark chocolate to feature! Here are some of the best ways to enjoy your chocolate and keep those gut bugs nice and happy:
• Choose 80 per cent cocoa chocolate. As a basic rule of thumb, the more cocoa solids a chocolate contains the more beneficial polyphenols and less added extras it contains.
• Avoid added 'extra' ingredients. Chocolate can be high in refined sugar and saturated fat content derived from the cocoa bean itself but try to choose lower fat and sugar options with minimally added milk fats, vegetables oils or sugars. This way, you can still enjoy chocolate (moderately) without worrying about your health or waistline!
• Get your cocoa from the health food section, not the baking aisle. When baking cakes and biscuits try replacing dutch-processed cocoa with natural cocoa powder.
• Dark chocolate covered nuts such as pecans, hazelnuts and peanuts could boost the benefits. These nuts contain the same polyphenols as cocoa, so may help to boost the intake of these health-promoting compounds. This also gives your chocolate the extra kick of flavour by adding your favourite nut variety!
• Another idea is to add cocoa powder to a wholesome smoothie packed with healthy ingredients such as rolled oats, banana, peanut butter and your preferred non-dairy milk. You'll get a healthy dose of fibre, wholegrains, healthy fats and protein plus a nice chocolatey hit – perfect for that 3pm lull!
While some chocolate can be beneficial for health, consuming cocoa-based products still adds calories into your diet. The key with these swaps is to enjoy in moderation as part of a healthy balanced diet