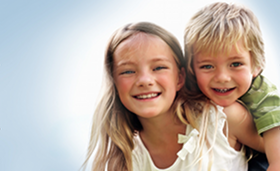 Being a parent certainly has its challenges, none more so the caring for sick child.  Nursing your sick child through the night, trying to soothe his cough, or bring down her fever, and dealing with the mood swings are all part of life as a primary caregiver.
"A wide-ranging health appraisal questionnaire, followed by non-invasive assessments will provide all the material necessary to recognise your child's health issues at the causative level."
Beneath the surface and symptoms, there is much more happening in your child's body. The foundation of illness is not simply the bacteria or virus, there are other variables involved. These can determine whether your child will be vulnerable to illness, colds and influenza.
"Allergies, frequent infections, digestive disturbances, learning difficulties, ADHD, and Autistic Spectrum Disorder are all health issues for children that can be moderated with the right care."
Strengthening your child's vitality, immunity and overall health is certainly achievable. The best method is to be responsible for providing a healthy environment, from the first day you bring your newborn home.
For the body to produce sufficient healing efforts, the immune system has to be robust and operating at its peak. Influences that lead to a declining immune system include, stress, poor nutrition, unhealthy emotional and mental state, and excessive toxins.
For more information on Children's Health, please contact us today on 03 88200010