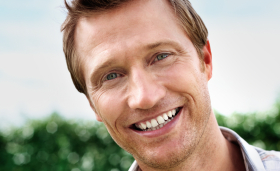 Compared to Australian women, Australian men are far more likely to suffer serious health complications resulting from conditions such as cancer and heart disease. Mortality rates are also more advanced, in men.
Poor health is exacerbated in Australian men by the common refusal to seek medical attention, when compared with their female counterparts. A lack of awareness surrounding health issues and a resistance in adopting a healthier lifestyle, also put men at a disadvantage.
"Broad internal biochemistry testing is absolutely the key to understanding and treating men's aliments."
Major health concerns for males are:
Current research in Australia estimates that 67 per cent of men are overweight, if not obese. Obesity brings with it an increased risk of:
● Type Two Diabetes
● Cardiovascular Event
● High Blood Pressure
● Cancer
● Sleep Apnea
● Arthritis
● High Cholesterol
"Weight control problems and their ensuing implications are easily adjustable and treatable."
Your typical Australian male spends at least 40 hours per week in a high-stress, energy sapping work environment. Below par management of stress can easily lead to swift changes in mood, low levels of energy and eventually anxiety and depression.
The prostate gland, unique to males, can come to be inflamed and demand immediate treatment. Pain and the urgent need to urinate frequently are very common, but also readily treatable symptoms. With a good diet, lifestyle and nutrition, it is simple to manage prostate health.
 "Cultural factors and machoism press men to be tough characters. An adverse and unnecessary effect of this is that men believe that any complaints of illness, or a visit the doctor is a threat to their masculinity."
In today's fast-paced, high-stress world, men's health has never been more important. Living a long, fulfilled and healthy life is something that is easily achievable, with a little care. It is a simple as eating balanced meals targeted for well-rounded nutritional value, exercising more often and having regular checks. It's never too late to become healthier.
For more information on Men's Health, please contact us today on 03 88200010