FODMAPs are found in the foods we eat. FODMAPs is an acronym (abbreviation) referring to Fermentable Oligosaccharides, Disaccharides, Monosaccharides and Polyols. These are complex names for a collection of molecules found in food that can be poorly absorbed by some people. When the molecules are poorly absorbed in the small intestine of the digestive tract, these molecules then continue along their journey along the digestive tract, arriving at the large intestine, where they act as a food source to the bacteria that live there normally. The bacteria then digest/ferment these FODMAPs and can cause symptoms of Irritable Bowel Syndrome (IBS). Symptoms of Irritable Bowel Syndrome include abdominal bloating and distension, excess wind (flatulence), abdominal pain, nausea, changes in bowel habits (diarrhoea, constipation, or a combination of both), and other gastro-intestinal symptoms.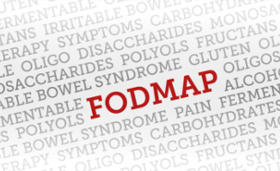 What are FODMAPs?
FODMAPs are found in the foods we eat. FODMAPs is an acronym for
Fermentable
Oligosaccharides (eg. Fructans and Galacto-oligosaccharides (GOS))
Disaccharides (eg. Lactose)
Monosaccharides (eg. excess Fructose)
And
Polyols (eg. Sorbitol, Mannitol, Maltitol, Xylitol and Isomalt)
Where are FODMAPs found?
A few examples of food sources high in each of the FODMAPs are listed below.
Excess Fructose: Honey, Apples, Mango, Pear, Watermelon, High Fructose Corn Syrup
Fructans: Artichokes (Globe), Artichokes(Jerusalem), Garlic (in large amounts), Leek, Onion (brown, white, Spanish, onion powder), Spring Onion (white part), Shallots, Wheat (in large amounts), Rye (in large amounts), Barley (in large amounts), Inulin, Fructo-oligosaccharides.
Lactose: Milk, icecream, custard, dairy desserts, condensed and evaporated milk, milk powder, yoghurt, soft unripened cheeses (eg. ricotta, cottage, cream, marscarpone).
Galacto-Oligosaccharides (GOS): Legume beans (eg. baked beans, kidney beans, bortolotti beans), Lentils, Chickpeas
Polyols: Apples, Apricots, Nectarines, Pears, Plums, Prunes, Mushrooms, sorbitol (420), mannitol (421), xylitol (967), maltitol (965) and isomalt (953).
FRUCTOSE MALABSORPTION
The foods we eat are made up of many components, including sugars, amino acids and fats. Fructose is a sugar found naturally in many foods, including honey, wheat, fruits and vegetables. Fructose is present in a single sugar form and also as a chain of fructose sugar units (fructans). Normally, fructose is absorbed in the small bowel. However, with fructose malabsorption, the normal absorption of fructose is impaired. Fructose malabsorption can cause symptoms of stomach bloating, wind, stomach pain, loose bowel motions and / or constipation if the diet is not well planned. These are common symptoms that can often be called irritable bowel syndrome.
Fructose malabsorption can be diagnosed using hydrogen and/or methane breath tests, which recognise unabsorbed fructose.