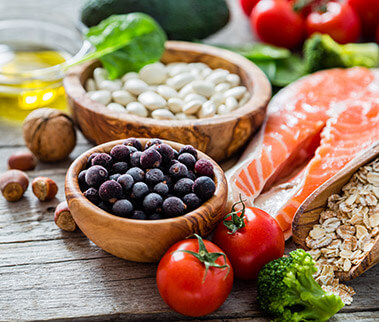 Autoimmune diseases aren't much fun. They can come with pain, inflammation, low-energy levels and increased stress and anxiety. But, as you probably already know, you can't let autoimmune diseases overcome you. With the right advice, lifestyle and diet, you have the power to manage your autoimmune disease and live a normal, healthy life. Anti-inflammatory food is a big part of managing an autoimmune condition. These foods help to reduce inflammation in the body, decreasing your pain and allowing the body to function in a more regular manner. Let's take a look at how autoimmune conditions create inflammation and which anti-inflammatory foods can help manage these conditions.
Autoimmune diseases and inflammation
Autoimmune diseases, regardless of where they affect the body, create inflammation. Take inflammatory bowel disease, for example. This disease creates inflammation in the intestinal wall, resulting in stomach aches and pains. Psoriasis causes skin cells to grow too quickly, resulting in inflamed red patches and silver-white scales on the skin. Rheumatoid arthritis attacks the joints and causes inflammation in them. See the pattern? Most common autoimmune diseases create inflammation, affecting our day-to-day lives.
Importance of anti-inflammatory food
While food can't necessarily cure an autoimmune disease, certain foods can definitely help to reduce inflammation caused by autoimmune conditions. These foods offer a natural alternative to over-the-counter drugs, like ibuprofen, and prescription medicine. Eating these foods on a regular basis has shown to help many people suffering from autoimmune diseases. Diets like the autoimmune diet have helped identify problematic foods for individuals.
Anti-inflammatory foods
Fish
Fish is delicious and plays an important part in the autoimmune diet. Fish that is rich in omega 3 fatty acids, like salmon, tuna, sardines and mackerel, reduces inflammation and protects against several autoimmune diseases.
Turmeric
For many centuries, turmeric has been used as an anti-inflammatory food. Packed with the active ingredient of curcumin, turmeric can help with inflammation of joints, making it a popular choice for those suffering from rheumatoid arthritis.
Green, leafy vegetables
Green, leafy veggies such as spinach, kale and collards are one of the best foods you can include in your diet if you suffer from an autoimmune disease. These foods are excellent for digestion, they possess antioxidant qualities and they can help fight inflammation. They're also delicious in a variety of ways – from smoothies, to salads, to sandwiches.
Managing your autoimmune disease is a lot easier when you have a professional on your team. Luke Clarke is a dedicated naturopath who uses scientific testing processes and naturopathic wisdom to help you overcome your autoimmune conditions. Having successfully treated many patients in a similar boat as you, Luke Clarke works meticulously to help you on the road to a normal life. Get in touch with Luke to enjoy a free 10-minute consult today.